Complete website protection with AWS WAF The Customer
The customer is a part of one of the pioneers in health care – Apollo Hospitals Group. Their journey of health and wellness is fueled by Science & Medicinal Research. Their vision is to refine health and longevity, by spreading consciousness on nutrition, fitness, wellness, preventive healthcare and environmental issues, all over India. They also provide real-time access to health-related content and products, backed by decades of research conducted by subject matter experts and trusted industry specialists
The implementation
Customer was facing DDoS (Denial-Of-Service) attacks. This is probably the most common attack where attackers overload an application by sending bulk requests to the web servers. Thousands of hosts infected with malware are used in this attack which slows down the application and significantly hurt the value of a brand.
AWS WAF is a web application firewall that helps protect web applications or APIs against common web exploits and bots that may affect availability, compromise security, or consume excessive resources. AWS WAF gives users control over how traffic reaches their applications by creating security rules that control bot traffic and block common attack patterns. WAF security examines HTTP traffic before it reaches the application server. They also protect against unauthorized transfer of data from the server.
Architecture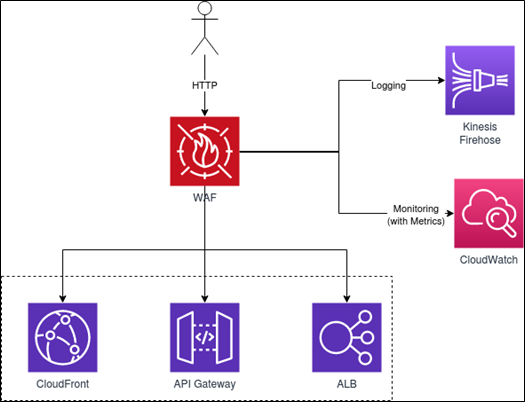 Instead of provisioning and maintaining own WAF servers, the Power Centre team set up WAF from the AWS console. This enabled the customer to define their own traffic filtering rules to protect network and host-level boundaries. System security configuration and maintenance became very simple and seamless.